With heart and soul
Welcome to friends, with us you can have a wonderful time.
Entrust yourself to us. Enjoy time and space for yourself.
We look forward to seeing you at the Adler Landhotel.
Your family Bachmann and family Eck.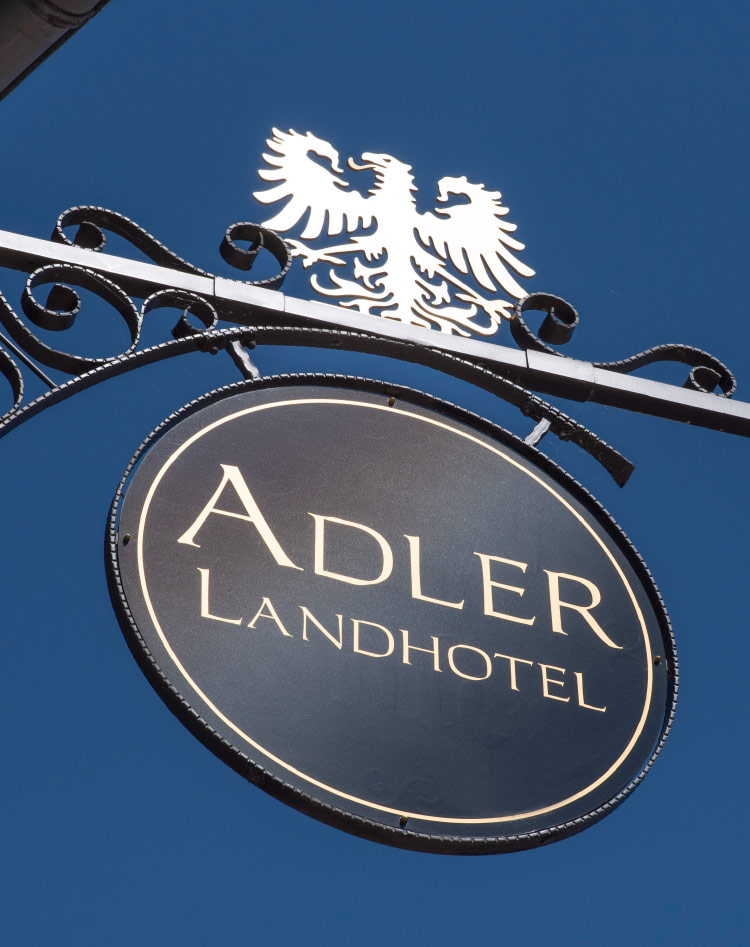 Feel good
Arrive, unpack and feel completely at home.
Stylish color combinations and with warmth indivduell furnished rooms,
together provide a warm and harmonious feel-good atmosphere.
Treat yourself to time out and experience the many small attentions,
that make your stay with us so unique.
ADLER
Comfort
Single room
approx. 12-14m²
(for 1 person)
75,00 € - 79,00 €
including breakfast buffet and Adler Landhotel
inclusive services
bed size 90 x 200 cm
or 140 x 200 cm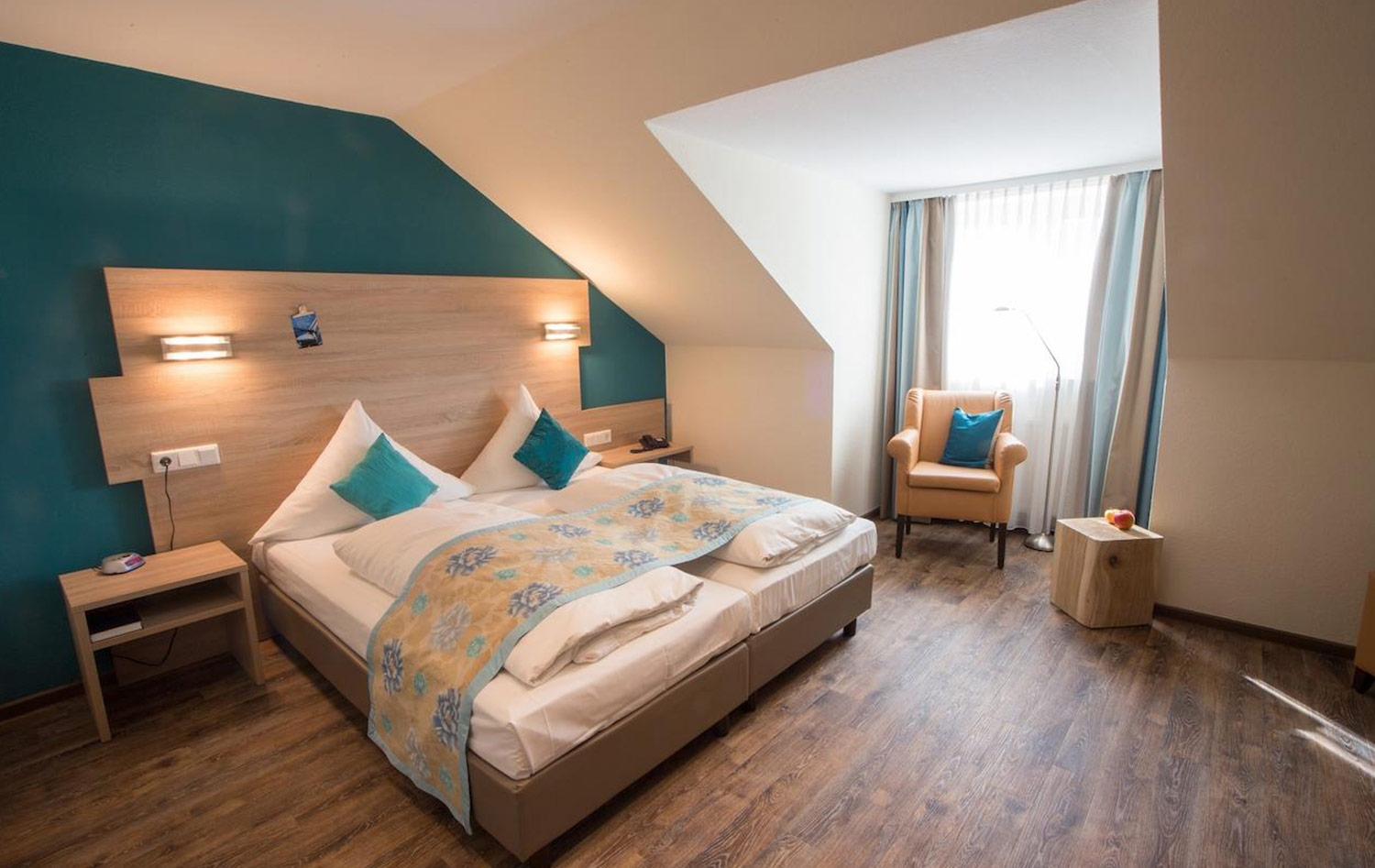 ADLER
Comfort
approx. 22-24m²
(for 2 persons)
120,00 € - 130,00 € per room/day
for single use 83,00 € - 88,00 € including breakfast buffet and Adler Landhotel
inclusive services
bed size 180 x 200 cm
ADLER
First Class
approx. 25-32m²
(for 2 - 3 persons)
from 135,00 € - 145,00 € per room/day
for single use 90,00 € - 95,00 €
including breakfast buffet and Adler Landhotel inclusive services
bed size 180 x 200 cm
or 160 x 200 cm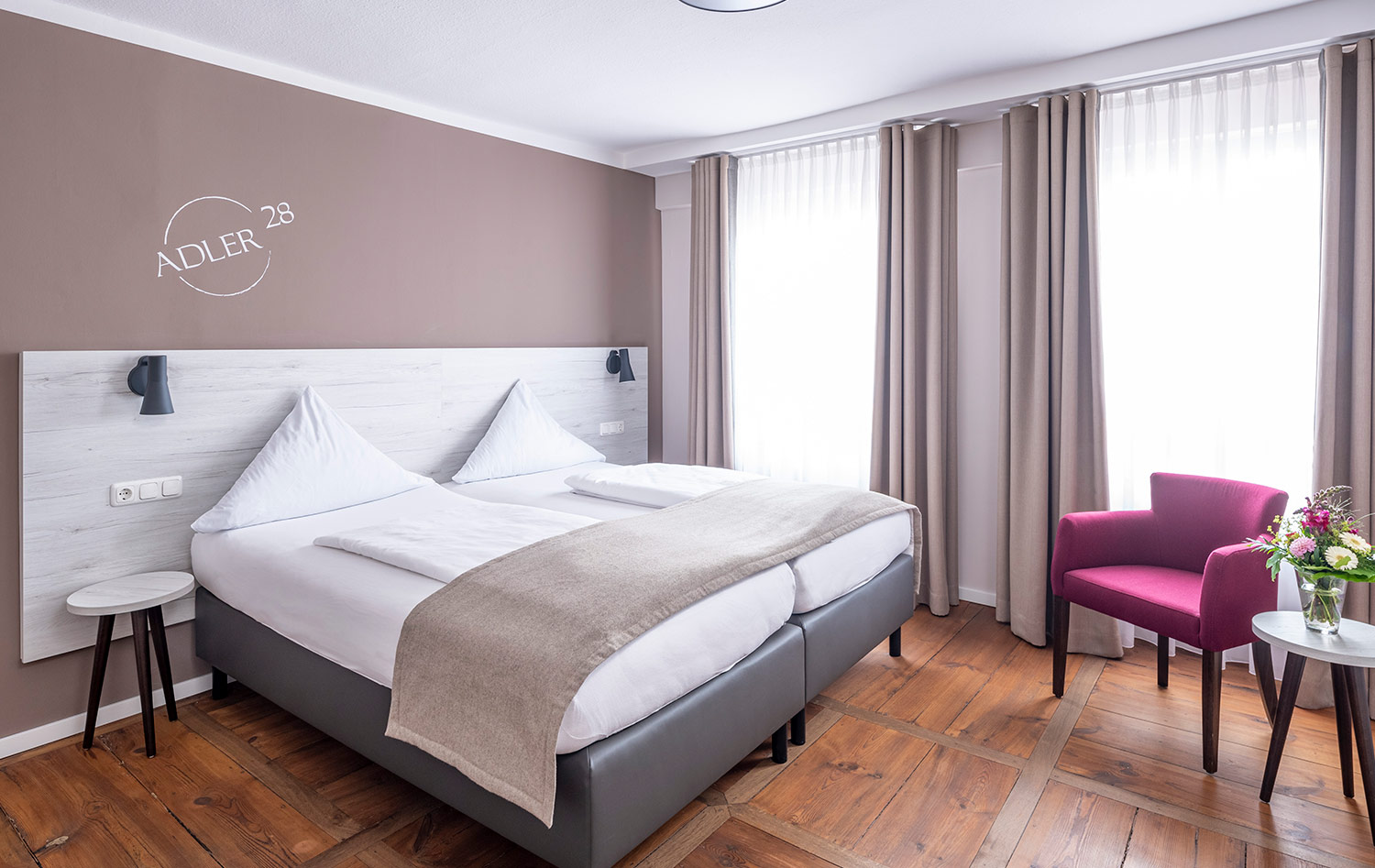 ADLER
First Class/Adler 28
approx. 25-32m²
(for 2 - 3 persons)
135,00 € - 145,00 € per room/day
for single use 90,00 € - 95,00 €
including breakfast buffet and Adler Landhotel
inclusive services
bed size 180 x 200 cm
or 160 x 200 cm
ADLER
Superior
approx. 34m²
(for 2 - 3 persons)
150,00 € - 160,00 € per room/day
for single use 95,00 € - 99,00 €
including breakfast buffet and Adler Landhotel
inclusive services
bed size 180 x 210 cm (extra length)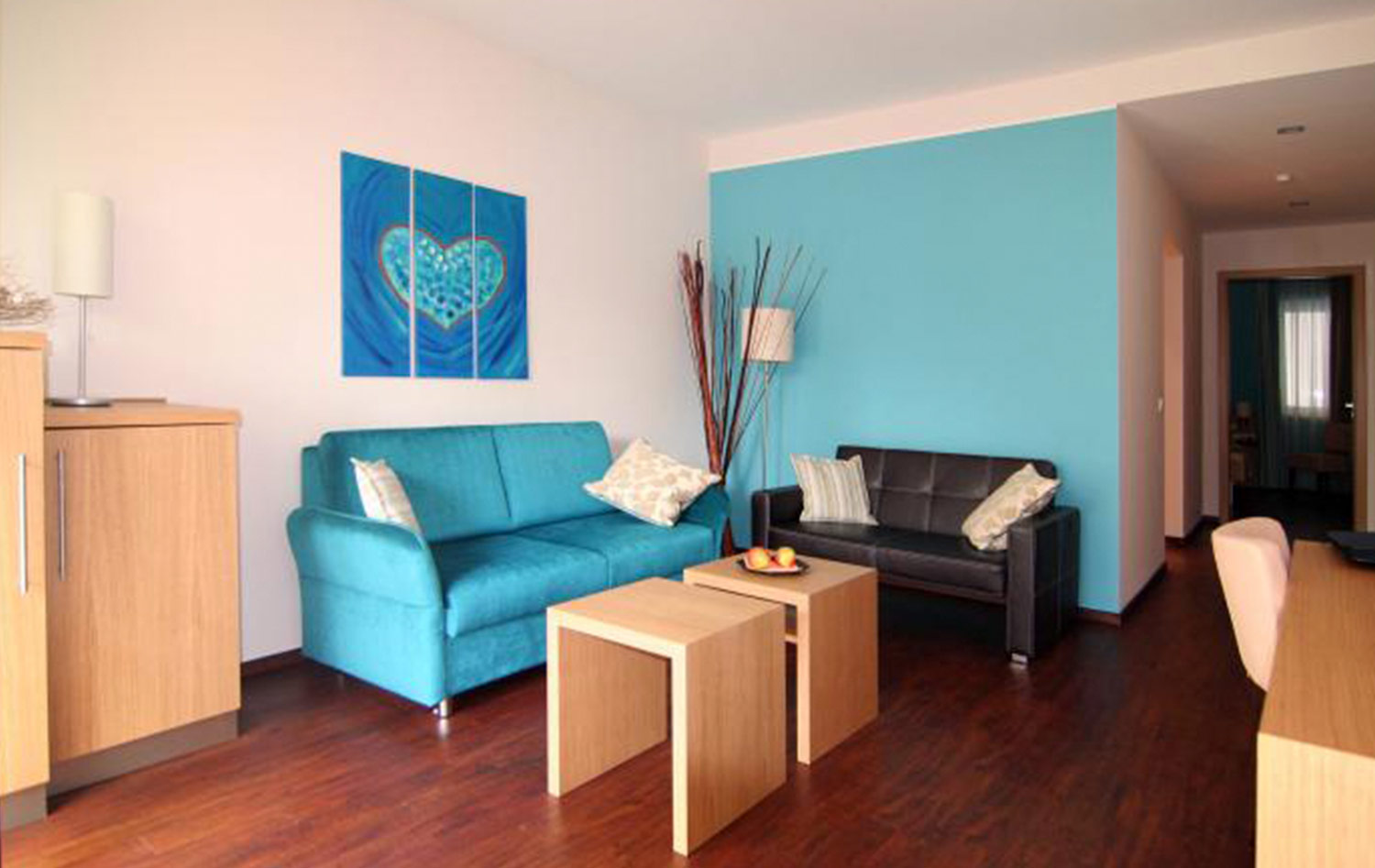 ADLER
Suite
approx. 45m²
(for 2 - 4 persons)
170,00 € - 180,00 € per room/day
for single use 100,00 - 105,00 €
including breakfast buffet and Adler Landhotel
inclusive services
bed size 180 x 200 cm
Included in the room price
- Overnight stay in the booked room category
- room with cable TV, radio, telephone, shower, WC, hairdryer, desk
- all beds without footboard
- rich country hotel breakfast buffet
- free WIFI in the entire hotel
- free parking directly at the house
- organic natural pool in the Adler garden from April to October
- classic Finnish sauna with relaxation room
- bicycle storage room with charging possibility for e-bikes
- rooms suitable for allergy sufferers
- handicapped-accessible Ai certified rooms
Optionally bookable
- Gourmet half board in the evening - 3-course menu with main course to choose from for 34 € per person
- Dogs are welcome with us. For your dog we charge 12 € per dog/night
- E-car charging station
Our country hotel

1 - Gasthof
2 - Reception ˈ Restaurant
3 - Höfchen
4 - Short-term parking
5 - Adler 28
6 - Guest house
7 - Bio natural pool
8 - Garden area
9 - Bicycle garage
10 - Parking with e-charging station
11 - Country house with sauna
12 - Public parking spaces